Discover more from Creation's Paths
Explore the intersection of metamodernism, creation spirituality, magic, and mysticism through a Christopagan lens.
A Retreat from Chaos
The many blessings of this year's CSC Board Retreat a biomythography meditation
The Departure
We left our house at 1 am Sunday morning to make the two and a half hour journey to St Louis to catch our flight.
Maybe I should stop right here at the beginning and tell you I am terrified of flying. I was in a minor plane crash when I was a child and I have feared flying ever since. Our pilots did not realize the electrical system wasn't on until we were in the air. It was a medium to small plane, and they had no means of contacting the tower or ensuring the landing gear was down, so we "landed" in a farm field.
Oh, and did I forget to mention I have a fear of crowds and being around people, especially now with the rampant transphobia in the world. I am so used to being judged and harassed because of that I avoid the opportunity to receive such treatment. 
So, here I am in a car on my way to get on a plane to travel through crowded airports to meet a bunch of people that I have only ever met online. Terror would have been a kindness to the whirlwind of rumination and fear assaulting me. 
Why had I agreed to this? Why was I going? How was I ever going to survive the trip?
My husband and I talked the whole drive to St Louis about the trip and my fear of flying, devising a plan to keep me from freaking out. 
The St Louis airport was a bit of a nightmare. They took my cane away from me and had me get out of my wheelchair to walk through the scanner. I fell a couple times in the scanner, but I suppose it did its thing. At this point, they pulled me aside for a pat down, which was explained to me very simply. He then proceeded with the back of his hands until he got to my genitals. He had me spread my legs, and he reached up and fiddled with my downstairs mixup a bit before pulling the front of my shorts and underwear open to inspect the contents. 
After all that I was allowed to hobble to the wheelchair and only after I was seated did they return my cane. 
I expected a violation of my personhood at the airport from stories I've heard, but this was worse than I expected.  
With all this wind added to the storm of emotions raging within me. I vibrated in the chair as we waited to board the plane. There was no turning back.
I couldn't breathe as they wheeled me onto the plane. My fears danced around me with a devilish glee, singing songs and celebrating my impending doom.
The Flight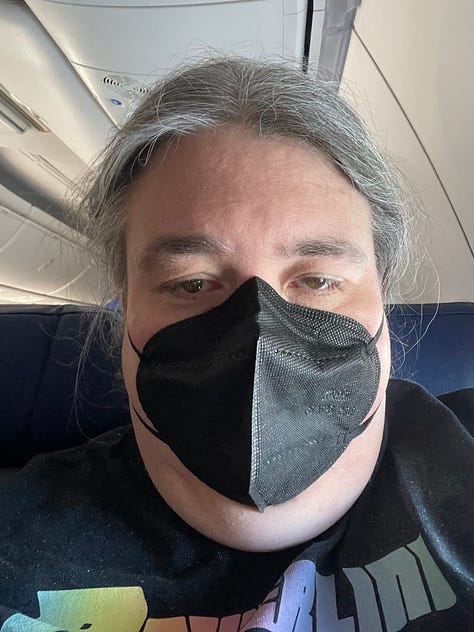 The plane took off at sunrise and we raced away from the sun, desperate to remain in the darkness where terror reigned and the shadow needn't struggle to reach out to grab me.
Light prevailed, driving back the night, but the fears remained.
Fronts pressed in, disturbing the air and shaking the plane. To a confident flyer, I am sure it was minor turbulence, but in my panicked heart, each shake foretold my impending doom.
Shlama laki Mariam…
Hail Mary,
full of grace,
ripe with power and healing.
Hold us in your loving arms,
cradle us close to your heart.
We fly to your patronage…
We fly…
"Let me enter the Path of Darkness, peradventure
thus shall I obtain the Light"1
Like a neophyte at the temple as the first golden rays of the dawn broke over my soul, I prayed all the way to Denver and again on the second flight to Oakland. The second flight shook more than the first.
The seat belt dug into my left hip, leaving a dark bruise. Panic ruled me, but we arrived safe and prayed up.
Like Cleopatra's procession into Rome, I returned to Oakland for the first time in too many years. They assigned three people to the wheelchair, two to push and one to march before us, proclaiming, "Out of the way, wheelchair coming through."
Embarrassment married fear in the terminal as I covered my face and they raced us to the rental car shuttle.
As Brian sorted out the rental car, I continued to meditate and pray. Entering the way of silence, I let go of my fear and embarrassment. In the inner grove, in the ground of Alaha,2 I found the relief and rest I needed for my soul. With the Shekhinah3 guiding us all on this retreat, I knew I was in good hands, but needed to remind myself of the good graces of God, because like all humans, I am forgetful.
Our hostess, Carolyn Million, greeted us with love and grace. Though we had not met in person before, we had talked so much online; I felt at home and at ease. We were not strangers. I apologized for my disheveled traveler's appearance, and we visited, going out for sushi and getting more personally acquainted over the delicious meal before checking into our hotel to rest up for the days of meetings ahead.
Monday
It was difficult to get up the next morning. My back and legs were already done in from traveling and the lack of sleep on the journey out. I was up for over 36 hours before I finally fell asleep in the most comfortable bed I have ever slept in. Slowly, I pieced myself together and we made our way to the host's house for the first day of meetings.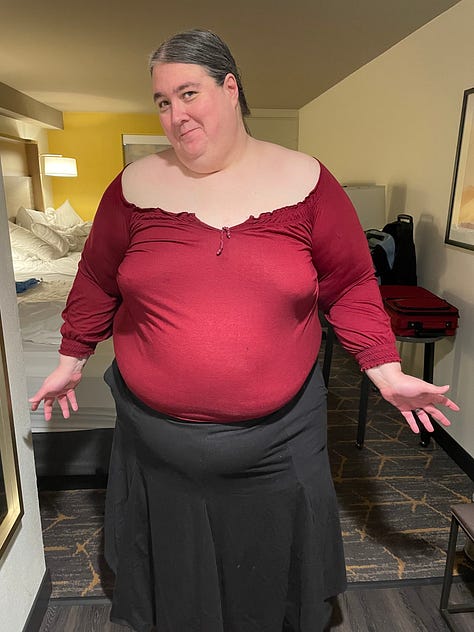 As the sun fell behind the clouds and the meeting began,
I arrived just before the last, to find a kind welcome.
With open arms, we embraced in gratitude and love,
Our distance melted away, in the light of community above.
We prayed with our bodies, our hearts, and our minds,
Sharing dreams, concerns, and challenges of every kind.
For daring to envision a future in a world so dark,
We imagined a path forward, with a flame that sparked.
Our hearts yearned to awaken the world to a new dream,
Words struggled to form, but we pressed on, it would seem.
With a will to listen to the cry of wisdom's voice,
We caught her words, and made them our choice.
---
While we wrestled with angels of hope, dream, and possibility, Brian prepared our lunch: a handmade, gluten-free udon noodle bowl with his signature ginger teriyaki sauce with mixed vegetables and fish. It was delicious. At first, I feared he forgot to make the noodles gluten-free because I didn't know they were until he said something about it. We discussed our lives and our work over lunch before returning to the work we travelled together to do.
I led the group in Rabbi David A. Cooper's beautiful and powerful middle pillar meditation4 to recenter ourself after lunch. We stood together as a grove of trees of life, rooted in Malkuth5 in the center of the earth feeling the energy of the cosmos rain down from the supernal realms. It flowed into Chokhmah,6 then to Binah,7 before filling Da'ath8 and flowing down the middle pillar before entering the earth and then feeling the return of the energy back up into the cosmos.
---
As we gathered to discuss the future's hue,
Wisdom joined us, with her vision anew.
Entrusted with the four paths and their mysteries to keep,
Through gifts, outreach, and membership we shall reap.
Spirit mediated, helping guide our cares and concerns,
Leading us towards the path where consensus turns.
Each voice added to the chorus of aspiration,
We teased out the way, with hopeful determination.
Raucous debate and compassionate listening intertwined,
As we wrestled the Nereus beast called vision, to find
A form we could barely make out, with our sight so thin,
As the first day came to an end, and our vision closed in.
---
To the Labyrinth
In a fitting cap for the day, we all journeyed into San Francisco by ferry to add to our number and walk the labyrinth at Grace Cathedral.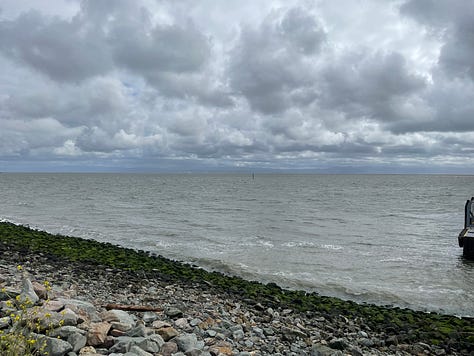 If you haven't guessed yet, I have a fear of boats and traveling over water. I know, I know, so many fears. I said several prayers as we waited to board the ferry, calling out to Mary, to Lugh, and to Manann to give me strength and peace. They answered my prayers better than I could have imagined.
The bay was rough and the ferry rocked quite a bit, but I never got seasick. The most amazing part was that I never felt fear. I enjoyed the ride and might even say that I loved it.
We took an Uber or a Lyft from the Embarcadero to Grace Cathedral, I cannot remember which, and Mary Ann Wamhoff taught us how to walk the labyrinth.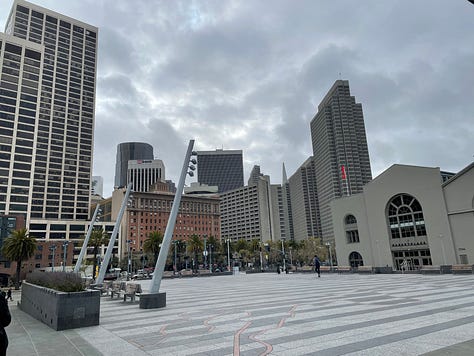 I was so tired so I walked the circle around the labyrinth chanting the Tehora he:
"Elohi neshama shenetatabi, tehora he."
"My God, the soul which you placed in me, she is pure."
Then I sat while everyone else walked the labyrinth reading the clouds. Three times I saw a fire chalice open in the clouds to bless us and I read four messages for those there. As I read each message, I asked who it was for, and either a bird flew over only one person or a bubble popped over someone.
I hope you can see them in the pictures. As the others walked the labyrinth, a man set up at the bottom of the steps leading up to the cathedral with a bucket and a hoop between two poles. When he raised the hoop out of the bucket, the wind carried bubbles of all sizes up into the air and over the labyrinth.
It was a magical surprise that added to the beauty of the moment.
I have not felt such a deep peace for a long time. It was a beautiful day. There air was just cold enough to numb my knees and back and keep them from hurting too much while we were in the city.
After the labyrinth, we went to Chinatown to eat dinner. The food was delicious, but I wish it had a bit more heat. Our server warned us that the food was very spicy, so you could choose from four levels of heat: none, mild, medium, and hot. Because we wanted to not be distracted by the heat so we could visit, we ordered medium heat, which I would call mild at best, but it tasted so good, I quickly forgave it.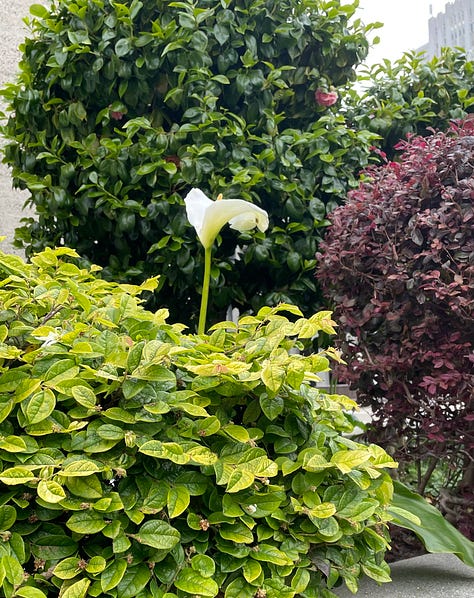 The conversation was great, and after an adventure to get back to our cars then back to the hotel.
My legs spasmed the moment I laid down, but I quickly got them to calm down and drifted off to sleep.
Tuesday
I didn't wear exactly what I wanted to on Tuesday. Originally, I was going to wear the yellow top in the picture with a burgundy wine skirt, but it was colder than I expected and raining, so I layered up and wore the heavier, black skirt to keep warm. My hair was a disaster the entire trip, but I figured it only manifested the wildness I felt in my heart so I didn't fret about it too much.
I felt like a feral animal around all these educated and cultured people, but I learned Creation Spirituality in the wild with Brian, experience, and a few books to guide me. My appearance was the least of my concerns. They accepted me for me and that was all that mattered.
---
The path was found, but now to tread,
From one generation to the next, wisdom spread.
Many matters at hand, we discussed with fervor,
Healing waters of words, flowed on further.
At times, the stream rose, threatening to sweep us away,
But never too far, from the path, did we stray.
With open hearts and minds, we set our sights on goals,
Yet, our vision foggy, and unknown language stalls.
The way we should go, stands guard before us,
Unique paths to many, yet the goal never lost.
Words escape us, as we grapple with the new,
As we move forward, towards the goal in view.
---
Brian made a quinoa salad with a medley of olives, artichokes, and oranges, topped with calamari and fish. I will remember it for such a long time and hope to have it again soon. The interplay of the olives and oranges made a magic that haunts my pallet and I long to have it again.
---
In our final session, an elder spoke,
With clear vision, he named the path bespoke.
We organized ourselves to spread the message wide,
Gathering those who hear, to walk beside.
Merging the old with the new, we found our way,
Reaching towards the future, where our purpose lay.
Mission defined, vision held, everything clear,
The path before us, now devoid of fear.
Priorities set, we rested in the work well done,
So much accomplished in so little time spun.
Collecting the words, we set our course anew,
With understanding, of the paths we must pursue.
Next steps discussed, present fears and future lead,
Discernment of the group, to do what's best, we agreed.
A mantle offered, held in prayer, I will serve,
As needed, my faith in the paths we preserve.
---
Dinner with Matthew Fox
For dinner, Brian made a play on fish and chips with a roasted root vegetables and gluten-free panko crusted fish and fruit dessert that has yet to be named. It had a crushed pecan crust and layers of banana held together by one layer of strawberry compote and another of blue berry compote. It was phenomenal.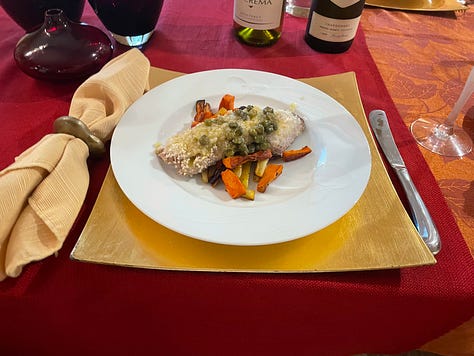 Matthew Fox arrived early and we all talked while munching on a roasted sweet potato and goat cheese hors d'oeuvre. He asked about the work each of us was doing, and when it came to me, I talked a little about the Whisper in the Dark series I will be coming out with soon.
The others filled him in on the other things I do from the music to the art, because, well, I don't like talking about myself. I did an oracle card reading for everyone and wasn't surprised that everyone pulled a card the reflected their personality and mission perfect.
Matt pulled the Archangel Gabriel, and I thought I saw him blush a bit as I explained the meaning of the card which described his mission perfectly.
Over dinner, he told us about the books he is working on and spent a lot of time talking to Brian about the food, the restaurant, and the spirituality of cooking and hospitality.
I was happy to be able to talk more to Michael, and in fact my only regret from the trip is that I didn't get to spend more time with him and Randy. Two dinners together wasn't enough.
Matt brought books to give to us, and put my head down not wanting to impose.
As he talked about Nature, Man, and Society in the Twelfth Century by M. D. Chenu and what he called the renaissance that worked, I looked up and saw both Patty and Diedre point at me and mouth the words, "That is for you."
When Matt asked who wanted the book, Diedre spoke up and said it was for me and I turned red in the face. I explained to Matt the new renaissance project we had been working on, and he smiled and said, "Oh, yes, this is for you. then. There is a chapter in this book that explains how the renaissance started from the ground up."
I accepted the book.
He also brought several copies of his own book, Julian of Norwich: Wisdom in a Time of Pandemic — and Beyond. I already owned the book and as much as I wanted a signed copy, I didn't speak up. I already received a book and didn't want to appear greedy.
Two of the three copies were snapped up. As the meal ended and we were about to go our separate ways, I noticed that there was one copy left and mustered up the confidence to ask for one.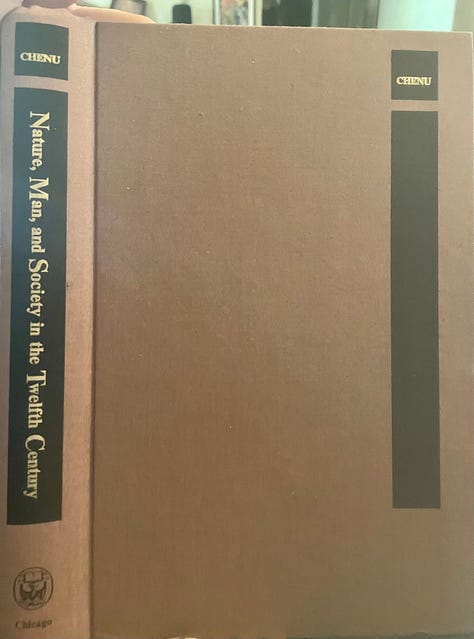 As we were milling around about to leave, Patty asked me what Matt wrote in the Chenu book, and I told her I didn't think to have him sign it since it wasn't his book. She explained to me that it was about lineage. Chenu taught Fox, and Fox taught me through his work and gave me the book, and she pulled it out of my bag and got him to sign it.
What a blessing! I am so glad she did that for me.
We have discussed behind the scenes, for quite some time, about the need for a new renaissance and I have seen all the neon signs from the cosmos encouraging me to work harder on the project. So I will not only be reading the Chenu book, but I will be posting about it here so you all can follow along, so if you want to get a copy to read along with me, this is the time to do that.
We returned to our hotel filled with blessing and inspired for the work to come. My mind is still racing about all the plans made both for the CSC and for what we are going to be doing with Creation's Paths itself.
Wednesday
We had some time before our flight on Wednesday so we visited more with Carolyn and went out for a tasty Korean lunch.
After we said our goodbyes we went to the park and visited with the bay for one last time before leaving. I miss the Bay Area so much. It was wonderful to visit with all the people from the CSC, but it was also wonderful to return, even if for a little while to one of the only places I ever felt at home.
The trip back was an adventure. This time, I didn't have any trouble at TSA and they didn't make me get out of the wheelchair and scanned me with the wand.
We did have one snafu with the wheelchair on the way back. As we approached the boarding ramp my intuition told me to move my cane so I held it in the middle of my chest pointing out. I am so glad I did.
As we went down the ramp, the front left wheel hit the stirrup and locked up, throwing me out of the chair. Fortunately, my cane hit the floor first and I sprung into a standing position instead of falling to the ground. This happened twice on the way to the plane. I hope they fix that chair so no one gets hurt.
The flight back was a miracle. I wasn't afraid at all. I actually enjoyed the flight and started writing this post on the plane on the way home.
As we raced the sunrise on the way out, we flew into the night on the way home.
The flight was late taking off from Oakland due to weather, so we arrived at Denver with 12 minutes to get to our connecting flight. They put us on a cart and drove us to the opposite side of the airport and I grabbled onto the safety bar arriving with 5 minutes before boarding.
We arrived in St Louis to a number of issues, but they were all minor annoyances so I am not going to bother going into them.
The biggest issue was that our allergies hit us hard the moment we stepped outside. They were made worse by the nasty smell that looms over St Louis as a warning the not spend long there.
The Dance of Chaos and Cosmos
I really didn't know what I was doing when I joined the board last October. I had already started Creation's Paths and didn't know how my work fit within the bigger picture of what the CSC was doing or how I personally fit in with the larger work either.
Now, I have a deeper understanding of both, and I apologize for being vague about both at the moment. It is not my place to discuss the plans of the CSC, and I will unfold the new plan for us Wayfarers over the next couple months as each element arises.
I have never felt so inspired and energized and I have a vision of hope for the future. So much good came from this retreat and I cannot wait to share them with you.
1
From the Neophyte Initiation Ritual of the Golden Dawn
2
Aramaic for Elohim, God, our ground of being and becoming and all the blessed Divine court.
4
from The Mystical Kabbalah
5
Malkuth is the tenth sephirah and is synonymous with Shekhinah. It is where all the energies of God flow in to birth the cosmos.
6
Chokhmah is the sephirah of Wisdom.
7
Binnah is the sephirah of Understanding
8
Da'ath is the sephirah of Knowledge and is the mirror of Keter, the first sephirah that is beyond our understanding and grasp.